Things Not to Forget If You're Planning a Valentine's Day Wedding
Valentine's Day is the day of love. Getting married on this beautiful day where love wanders in the air throughout the world is definitely special. There are a few things which you should consider while planning out the wedding tasks. To ease up your work and to give you a better insight, below are the considerable points for a Valentine's Day wedding celebration: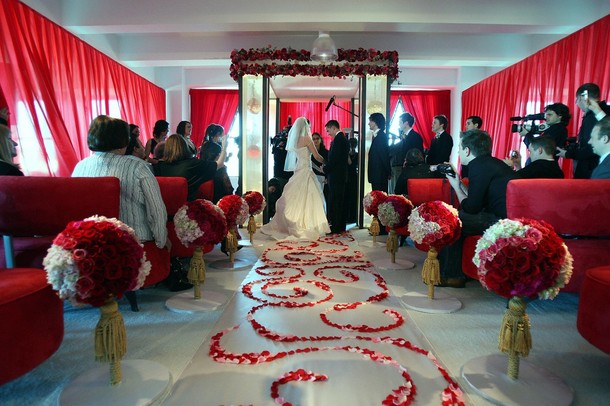 A wedding on a romantic day obviously doesn't need a theme to be given a thought about. Every individual is already in the feel of the day of love, and thus the theme of valentines can be of utmost success.
Be Prepared For The Struggle Of Venues:
On days like Valentine's Day, people usually celebrate by dining out. Therefore, finding the venue of your choice free for the day is really very difficult. You either have to make the reservations well beforehand, only then there's a sleek chance that you might get the venue for your wedding, else you'll have to settle for something else.
Make sure your guests get the feel of Valentine's Day despite it being your wedding celebration. You can do that by arranging little things like couple games, heart-shaped cupcakes or candies, exchanging Valentine's Day random appreciation notes, etc. Anything that'd add more of the day's importance to your occasion.
Expensive Items and Services:
Purchasing things around Valentine's might prove to be quite expensive. This is because around this time, the demand for gifts, decorations, restaurants, etc., increases a lot, and with a limited supply available, the prices shoot up. So planning a wedding on Valentine's Day definitely means extra dollars to be spent.
The Uncertainty of Guests:
Usually, people have commitments or plans for holidays. Valentine's Day is a widely celebrated occasion, and hence many people might not turn up for your wedding because of some other plans or places they needed to be at. This might give you some trouble in estimating the approximate number of guests that'll be arriving for the celebration.
While keeping your wedding on Valentine's Day, know that no one's ever going to forget your anniversary. You or your partner can also never miss it as it'll not just be you but the entire world celebrating your day. It'll be easier to keep in mind every year and prepare well before the anniversary.
As per the theme, choosing the best wedding dresses is extremely difficult. It would help if you had something romantic and something that'd go with the wedding theme. Ball gown wedding dresses are a good suggestion for the same. It'll be perfect for the theme. There are numerous other options as well.
Conclusion:
Hence, it might be clear that planning for a wedding on the day of love is definitely a romantically beautiful idea. But when you practically look at it, there are a few things that need consideration before being finalized. Make sure you don't miss out on any of the above-mentioned points before considering 14th February as the day for your wedding.