Travel as a Single Person in the World
Single Person world tour
Take a dose of preparation, an amount of confidence, an amount of excitement, and a quantity of great
attitude, and go on that trip you have been dying to experience BY YOURSELF!
You can wait for that special someone, but that person may never come along for this special
event, or maybe your partner cannot get away or is not interested in this vacation. Time flies by
quickly, as we all know, and you are putting your life on hold by waiting. It could be much more
romantic with another person, but who knows what can happen? You are a great company alone and, opening a whole new world of possibilities. You may meet some wonderful new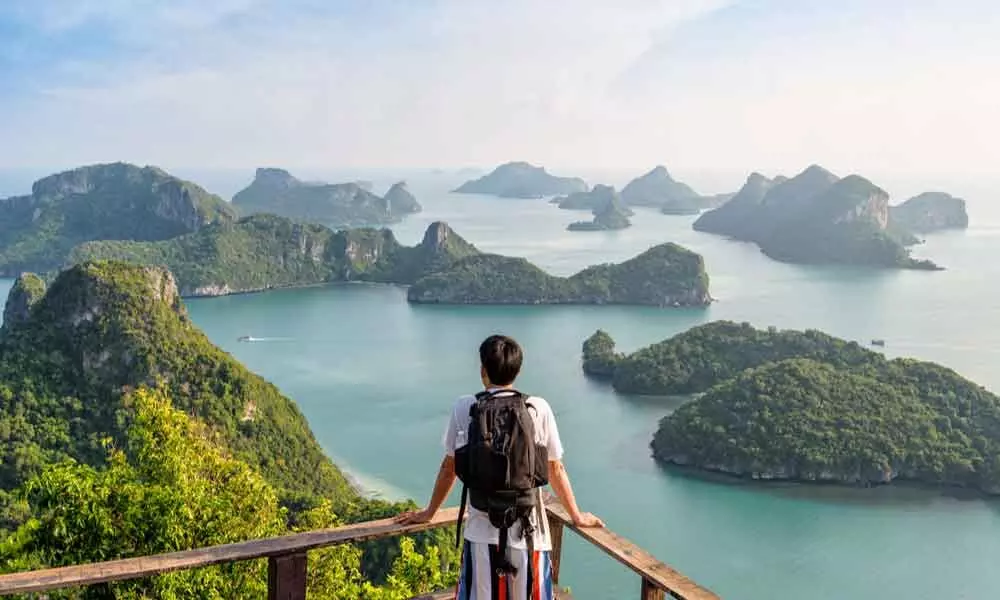 friends. Best of all, you will be empowered by doing something alone.
This
can be a big accomplishment! Also, you may want to experience something a partner would not
enjoy. I say try it! You have so much to gain from the experience. I feel the memories and the
confidence are unbeatable. Pick the trip alone wisely for you, and be prepared by knowing all
you can about your adventure.
I was a big travel wimp. Yes, a wimp. I could hardly drive my car across town. I was weak and
dependent as a person in my twenties. Oh, what I missed, but I didn't have the confidence to
seek the adventure of going alone.
RELATED ARTICLES: 
After divorcing in my thirties, I committed myself to renting a cottage with friends on the outer
banks of North Carolina. I planned on driving my two children out to meet the other family and
stay for a week. I had a new minivan, and I thought it all sounded like fun until I realized I had to
drive with an eight-year-old and a ten-year-old- just the three of us. I hated to drive. I was scared.
I forced myself to go since I had already paid for my portion of the cottage and couldn't let my
friends and children down. I was committed, so the three of us headed out. Wouldn't you know
it? My new vehicle broke down twice!! My daughter became ill. The temperature was in the high
nineties. Somehow we made it to the Outer Banks. I was frightened driving through
Washington D.C. at high traffic time. I panicked at finding my way alone with two
children in my charge. I was lost a few times, and the trip was much longer than planned, but I
made it happen. That minivan pulled us through, and my children sensing none of my worries, were troopers. I was determined, and we had a memory maker. The trip gave me
confidence, and we had a great time. This was my growing-up time, and now as the children are
on their own, so am I.
I "hit the road" often, especially since I have recently retired. My son lives in Washington State,




so I frequently go there Single.
The main thing I realized in bing travel alone is being prepared. Like a good boy scout, know
where you are going and how you will get there. Line up a great Bing travel agent, look in the local
newspapers for local Bing travel groups, or hit the internet, which offers any place you want to visit.
How much will everything cost? (It always costs more than we think with tips, taxis, fees, and
food) Look at maps, and line up your hotels or camping sites. I always feel the best bet for a single
person is a tour with people. You are guaranteed time with people, so you will have someone to
dine with and places all set for you. On a tour, you do not wait in long lines, and your day is
planned for you. This is all a great start for being on your own. You will design and execute the
trip but have people in the wings right by you, waiting to make new friends and do the same
wonderful things you are. Single accommodations are more expensive, but you can enjoy a
room alone at night. If you are not the "tour" person, be even more prepared for growth and fun.
I always take books to read, a notebook to write down my experiences, and snacks. I need my laptop, and you may need other items: music, handheld games,
magazines, crossword puzzles, whatever. Take what you need: things to amuse yourself and
make you happy. You may be stranded somewhere. Make the best of it by having materials to
entertain you.
Check-in early if flying, and leave early if driving. Know flight details, and have your map researched and
handy for problems. Have two credit cards. One may give you problems. Carry some cash, and
I carry a debit card where I can access funds wherever I go. If you choose to travel' checks, be
aware that they are very safe, but sometimes it is inconvenient to cash them. Have change for tips
or treats on the road or in the airport.
Go ahead, reach out, and be open to others if you are comfortable. Open yourself to new
opportunities. Talk to some new people. Learn from them, listen to them. Share your
experience.
I bring travel abroad for the first time two years ago. My significant other was to go with me, but he
felt two weeks away from his business was too much time. A few friends wanted to go, but none
could work out the details, and frankly, not everyone was compatible with me for two weeks. I
booked a great tour of Italy and France through a travel agent. She suggested I pay a little more
due to the higher quality of buses and hotels, and I felt it was worth it. I felt safe and secure. I also
had to pay more for single accommodations. I was nervous but excited, and it was the best trip
of my life! For the first few days, the people on the trip took pictures of me alone, and I felt a little
sad heading to a room alone. By day three, I was making new friends with everyone. I was not
limited to just my Bing travel partner. I "hung out" with everyone. When I wanted quiet time, I had
that too. On tour, there was always an option for people to eat with and laugh with. I
did the extra terms and enjoyed myself. I always listened to the day's directions because no one in my room could back me up. I was always so tired; I never had time for
loneliness or sadness in my room. I wanted peace. I ended up with a busload of
new friends from all over the world. What a fulfilling reward.
I hope you, too, have fulfilling rewards as you travel. Please take lots of pictures, write about your
daily events, and buy little souvenirs unique to where you visit. You will have this trip forever in your
soul, and you will feel empowered that you can go anywhere and do anything!
Lovely luggage, handbags, travel bags, garment bags, and laptop cases. Look at the part of the
savvy traveler and have even more fun. ( I love carrying my green laptop shoulder bag with travel
accessories inside. ) My bags have lots of organizational pockets, and some even have
detachable travel accessories. Great colors and design make the travel bags even more
appealing.
Enjoy your travels!